"You can't lead people until you serve people."
– Tommy Calvert
Tommy Calvert is Bexar County Commissioner for Precinct 4.
Tommy Calvert is Bexar County Commissioner for Precinct 4. Los Angeles Weekly called him San Antonio's "wunderkind" and Gardner Selby of the Austin- American Statesman said he is "one to watch" in Texas politics.
Commissioner Tommy Calvert was born a block off of Martin Luther King Boulevard in the Eastwood Village Neighborhood to parents Tommy "TC" Calvert and Dr. Val Ellisor Calvert. Commissioner Calvert also has an older sister. Commissioner Calvert's parents divorced when hewas 4, but his father has always been a fantastic father teaching him a lot about life and community. Commissioner Calvert comes from a long and distinguished family of community service and faith involvement; traits that have distinguished Commissioner Calvert from a youngage as a long-life and dedicated mentor to his peers. As a young child Commissioner Calvert attended St. Luke's Episcopal in Olmos Park where many say is where his political career started—he was the first African American president of the student body. This accomplishment has become a precursor to a future lustrous career that has distinguished Commissioner Calvert as a trailblazer. At an early age he was inspired by figures in the community, his father, and historical men of faith and service such as Martin Luther King and Cesar Chavez. At the age of 14 he began a busy public speaking career to schools, churches, synagogues, civic organizations, and political causes due to his commitment to helping others and his success maneuvering through the college and academic process.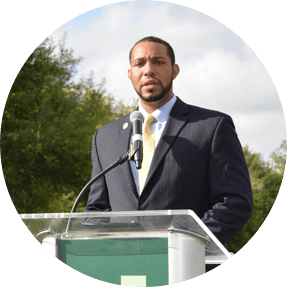 As a young adult, Commissioner Calvert mentored and tutored at three different youth centers throughout San Antonio, including actively volunteering with community organizations such as the Inner City Development. Coming from a service-oriented family—his father organized over 30 neighborhood and social service agencies on the east, south, west and northeast sides of San Antonio. Commissioner Calvert grew up fighting to clean up and advocate for our neighborhoods, at a young age championing environmental causes in the community. Commissioner Calvert vividly recalls when his father helped write the Community ReinvestmentAct, which he joined 2,000 people to the national bankers association and took the building over at 15 years old because they weren't giving loans for homes, businesses, or locating banks in working class/minority neighborhoods. As an environmentalist, Commissioner Calvert was involved in combatting toxic polluters in the eastside like the BFI Landfill and Alamodome Contaminated Soil Controversy. These are some of many experiences he remembers of his activist upbringing that helped form his strong leadership and mentoring skills. As a teenager Commissioner Calvert was given a scholarship to attend Saint Mary's Hall, and eventually became president of the student body—the first African American to serve in this role. Due to Commissioner Calvert's leading by example approach, St. Mary's Hall initiated a new policy requiring students to engage in community service projects as part of their curriculum.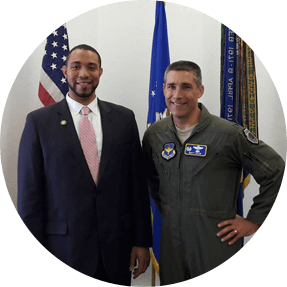 After high school Commissioner Calvert was admitted to Tufts University in Boston, one of the top 25 colleges in the country and the school ranked number one in the world for —International Relations where he excelled academically and held various leadership position as a student leader serving as class Senator and the youngest elected member to Tufts University's Board of Trustees. Commissioner Calvert was also a founding member of the local NAACP Chapter and served as the Political Director of the Pan-African Alliance. During his time at Tufts, Commissioner Calvert participated in AmeriCorps' Jump Start Program during his senior year teaching pre-school children in inner-city Boston. Upon graduation he became the youngest director of a major international human rights organization where he served as the Chief of External Operations for America's leading human rights organization fighting slavery and genocide, the American Anti-Slavery Group.He gained international attention as he fought forced labor worldwide helping to successfully push for the passage of the Sudan Peace Act, which helped one of the world's newest nations, South Sudan, bringing peace and freedom to persecuted Christians in the country. He also worked with Congressman Charlie Rangel to increase sanctions against the dictatorship in Burma, which eventually led to the fall of the dictatorship and the ascension of Nobel Peace Prize Winner Aung San Suu Kyi. These sections were added after Calvert's testimony of his covert work documenting forced labor in Burma. Calvert also skillfully organized global support for the first congressional resolution in U.S. history to declare genocide in international conflict.
As the head of the largest grassroots anti-trafficking organization, he played a critical role in the founding of the Save Darfur Coalition and in the passing of the first $50 million dollars that set up all of the modern infrastructure for the US government's efforts to battle forced labor worldwide. This milestone was possible through his advocacy for the passage of the Trafficking Victim's Protection Act. Calvert was also chosen by the US government to advise producers, writers and executives in Hollywood and New York to put the issue in motion pictures. He worked at 20th Century Fox, Lifetime Television, Peacock Productions, and the USC and NYU film schools. That work led to numerous movies and television specials to awaken Americans to the fact that modern-day slavery exists as the fastest growing source of revenue for terrorist networks and organized crime. He worked internationally with the AFL-CIO's Solidarity Center and Calvert was also the San Antonio keynote speaker for the AFL-CIO's Human Rights Day celebration. He has received numerous awards and recognitions for his work, include the National Bar Associations Freedom and Justice Award.
Commissioner Calvert is also an entrepreneur, he has twice been a small business owner having founded a public relations and public affairs firm and also leading a radio station in San Antonio,KROV 97.1-2 FM. In 2015, Commissioner Calvert made history by being elected not only the youngest but also the first African-American County Commissioner in Bexar County history. Since being elected to office in 2015, Commissioner Calvert has distinguished himself by building and developing areas in the county that have historically been neglected; ushering a rebirth for Precinct 4 residents. In his first 44days in office, he negotiated a multi-agency & department 52 Acre Bexar County Satellite offices next to Randolph Air Force Base. This development will not only protect the mission from encroachment upon Bexar County's sixth largest employer, but has also served as catalyst for renewed growth for Northeast Bexar County.As Commissioner he has delivered $1.5 million to the University of the Incarnate Word Medical School to create the new Bexar County Clinical Skills Center at Brooks City-Base, which will have a $1 billion impact over the next 10 years for Bexar County. Commissioner Calvert Co-chaired and founded Bexar County IT and Cyber Workforce Initiative, to help Bexar County schools have curriculum to get IT jobs that pay over $100,000 per year. This initiative will empower future generations of students be prepared for the jobs of the future in the STEM fields.Commissioner Calvert also has led the way to raise the minimum wage of Bexar County employees from $11.66 to $14.25 per hour. He also tripled the number of contracts awarded to Small Women and Minority Owned Businesses. As the Chair of the Re-Entry Council, he has more than doubled the number of employers who will hire the formally incarcerated from 240 to over 800. During the course of Commissioner Calvert's campaign he pledged to the people of thesoutheast side to help revitalize the abandoned Southeast Baptist Hospital on E. Southcross. Immediately upon entering office, he began reaching out to other healthcare systems and potential developers to recruit them to restore the old hospital, which had begun to deteriorate and adversely affect the area. Earlier this year, Commissioner Calvert was notified that Methodist Health Care Ministries was going to purchase the old Southeast Baptist and put a more than $17 million dollar medical clinic, dental clinic, athletic facility, multi-purpose community center, and church chapel they call the Dixon Center at the old Southeast Baptist Hospital campus revitalizing the campus. Commissioner Calvert was also crucial in negotiating and restarting the development of the historic Hot Wells site in Bexar County. He also recently served as the honorary civilian commander of the 12th Flying Wing. Calvert is currently serving as the Honorary Civilian Commander of the 433rd Flying Wing.